The author's professional artistic career started at 14 years of age in Ghana. Mr. Adoquei was one of the youngest and the first African artist to teach in all the major art institution in New York City. The Art Students League of New York, and The National Academy School of Fine Arts, New York. The New York Academy of Figurative Arts. Mr. Adoquei founded his own atelier about 15 years ago in Union Square, New York City. And about 10 years ago designed special six hour atelier courses for the National Academy of Design.
Several articles by and about Mr. Adoquei have appeared in national newspapers and magazines in the United States as well as in publications abroad and his paintings have appeared on the covers of books, magazines and newspapers. Most recently, the New York Times wrote an article about Mr. Adoquei's painting, "The Legacy of Dr. Martin Luther King." His painting, "Portrait of Rodney," was featured on the cover of Literature and Integrated Studies. Mr. Adoquei has painted portraits of people of all ages and from all walks of life—lfrom business and military professionals to astronauts, rock stars and beauty queens. His artwork is in the collections of several art museums and is included in both private and public collections here and abroad.
Historical achievement
Last year the Harvard Club commissioned Sam Adoquei to paint a portrait of a former president. The portrait will be hang among some of history's best portraits artists in the collection of Harvard Club.
Recently, the city of Pomport, Bergerac France awarded Mr. Adoquei the City's Medal of Honor for his contribution and dedication to the arts and culture of the area, and for bringing out the hidden beauty of the area for international art enthusiasts. It was the first time in history that the city awarded its Medal of Honor to a foreigner and to an artist, an historical achievement in Western art for an artist with Mr. Adoquei's background.
contact author/publisher:
[email protected]
Sam Adoquei teaching programs:
www.samadoquei.com/classes.php
Sam Adoquei official website:
www.SamAdoquei.com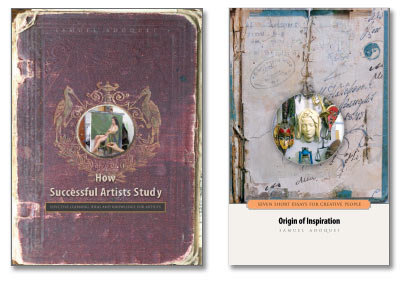 How Successful Artists Study
Effective Habits that Make Great Artists
Origin of Inspiration
Seven Short Essays for Creative People